TRANS-1,2-DIAMINOCYCLOHEXANE-N,N,N',N'-TETRAACETIC ACID MONOHYDRATE
CAS: 125572-95-4
Molecular formula
C14H24N2O9
Molecular weight
364.35
The EINECS
681-197-6
Related category
Raw materials; Biochemical reagent; Pharmaceutical intermediates; Organic acid; Solvent; Carboxylic acid; General reagent; Organic block; 1.2- cyclohexamethylenetetraacetic acid; Medicine; EDTAAnalogs; AnalyticalChemistrChemicalbooky; ChelatingReagents; Complexones; Chemical reagent; Biochemical reagents - other chemical reagents; Organic chemical raw materials; Synthetic intermediates; API; Other raw materials; Pharmaceutical raw materials - intermediates; Chemical raw materials; General biochemical reagent - organic acid; Analytical chemistry
Mol file
125572-95-4.mol
Fusing point
213-216°C(lit.)
Storage condition
Storebelow+30°C.
AqueousBase(Sparingly),Methanol(Slightly) Aqueousbase (sparingly), methanol (slightly)
form
FineCrystallinePowder
colour
White
smell
(Odor)Odorless
Water solubility Slightlysolubleinwater. Solublein1NsoChemicalbookdiumhydroxideandalkalisolutions. Insolubleinmostcommonorganicsolvents .BRN3222748
Stability HygroscopicInChIKeyVASZYFIKPKYGNC DHTOPLTISA -- NCAS
Archive
125572-95-4(CASDataBaseReference)
intro
Trans-1, 2-cyclohexanediamine tetraacetic acid is a white crystalline powder, which loses its crystal water when it is above 70℃. Soluble in alkali solution, almost insoluble in water organic solvents. It can be used as an organic reagent.
Apply
Trans-1, 2-cyclohexamediamine tetraacetic acid is used as ligand in analytical reagents to prepare lanthanide shift reagents, metal complexing agents, metal masking agents, etc.
use
Is 1.2 - ring diamine tetraacetic acid (DCTA) namely CycInhexadiaminetetraacetcacid, white powder not crystallization, melting point 215 (soluble in alkaline solution. Insoluble in water and organic solvents, the crystal water is lost above 70℃. It can form stable chelates with various metals such as Fe.n.c.u.zn.C.D, and is generally used for titrating reagents such as Cd.Fe.Co.Zr to quickly determine calcium in bone and teeth. Complexometric titration of copper, thorium and sulfate. And metal ion complexing agent, masking agent. Agricultural chemical sprays, additives for daily cosmetics. Blood anticoagulant, dyeing aid. Fiber treatment agent. Synthetic rubber polymerization initiator, color sensitive material washing and bleaching fixing solution, stabilizer, etc. Chemically similar to ethylenediamine tetraacetic acid (EITA) but more stable and superior in performance.
use
Ligands for the preparation of lanthanide shift reagents. Metal complexing agent. Metal masking agent. Determination of iron, copper, cobalt and chromium by spectrophotometry. Determination of iron and manganese by iodometry. Rapid determination of calcium in bone and teeth. Complexometric titration of thorium and sulfate.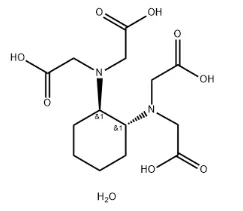 Our advantages:
1. High quality and competitive price:
1) Standard: BP/USP/EP/ enterprise standard
2) All purity ≥99%
3) We are manufacturers and can provide high quality products at factory prices.
2. Fast and safe delivery
1) The package can be sent within 24 hours of payment. A tracking number is available
2) Safe and prudent shipment. Multiple modes of transportation are available for you to choose from.
3) Clearance rate ≥99%
4) We have our own agents/resellers/distributors who can help us ship our products very quickly and safely,
We have stock to transfer.
Our services:
1. Fast delivery: We can deliver within 24 hours after receiving your payment.
2. Quality can be promised. It sells well all over the world.
3. Payment terms: T/T, Western Union, t/t
4. Always provide free samples.
5. Keep track of your orders. Keep you informed of further updates on your order.
6. Packaging: Professional packaging, professional materials.

Our company specializes in processing and selling chemical raw materials, chemical products, pharmaceutical intermediates, veterinary drug intermediates, dye intermediates, pigments, cosmetic raw materials and chemical reagents.
Our company has a group of sales team, service and information feedback vertical integration of perfect marketing network, products are sold all over the country and exported to South Asia, Europe, America, Africa and other more than 20 countries and regions.
Companies adhering to the "pursuit of quality, innovation and development" business philosophy, service as the fundamental, quality of survival, technology and development, adhere to the quality first, fair price, good customer service awareness and responsibility. In the future, Hebei Can Import and Export Trade Co., Ltd. will always uphold the business philosophy of "integrity and innovation", achieve integrity management, and keep moving forward on the road of specialization and internationalization!
Are you a trading company or a factory? We are a factory with our own trading company.

How do you control quality
Our factory is equipped with professional technical personnel to control the quality, every 2 hours with external inspectors sampling test, to ensure the quality of our production. We are also subject to BV, SGS or any other third party inspection.
How long is the delivery time
We can deliver small orders within 3 days and large orders within 7-10 days.
Where is your factory? How can I visit the factory
Our factory is located in Weifang, China. Only two hours' drive from Qingdao.
6. Can I have some samples
Yes, we can provide free samples, but the freight will be paid by our customers.

7. How to start an order or pay After confirming the order will first send a proforma invoice with our bank details attached. Pay by T/T
, Western Union

8. How to confirm product quality before placing an order
You can get samples of some products for free, you just need to pay for shipping or arrange to have them delivered to us and picked up.
You can send us your product specifications and requirements and we will manufacture the products according to your requirements.
9. What is the time of delivery
We ship small orders within 3 days and large orders within 7-10 days.